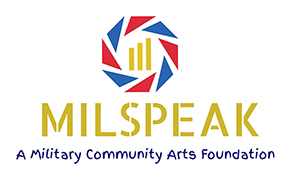 Welcome to MILSPEAK 2.0!
A 501(C)3 public charitable organization supporting the creative arts endeavors of military servicemembers, veterans, and family members.
From MilSpeak's new president
June 5, 2017
Here in North Carolina, my neighbors are cultivating beautiful flower and vegetable gardens, while I look on with a certain degree of envy.
You see, every winter I daydream about the gardens I'll cultivate by the end of summer. And by June the only thing flowering around here are the excuses for why I failed, again, to plant and nurture a garden–excuses such as I'm finishing a book, or I'm starting a book, or I'm researching for a new book.
This May I was still daydreaming about raising German Johnson tomatoes and an acre of lavender when MilSpeak's founder and Marine Corps sister, Sally (Drumm) Parmer, offered the most beautiful gardening challenge ever: MilSpeak Foundation.
And now I'm surrounded by a motivated team of master gardeners. I look forward to introducing them to you soon, all of whom are veterans and military family members who are also successful authors, poets, musicians, songwriters, screenwriters, visual artists, sculptors, photographers, and more.
We hope you'll return here often to enjoy the fruits of our labor. We hope, too, you'll feel motivated to roll up your sleeves and help us along the way—by sharing with us your wants, needs, and desires regarding MilSpeak.
After all, everything we're planting this year at MilSpeak Foundation is for you—for the seed of creativity embedded within you and yearning for growth.
And so it begins!
About Us
MilSpeak Foundation, Inc., is a 501(c)3 public charitable organization that supports, promotes, and celebrates the creative arts endeavors of our military servicemembers, veterans, families, and caregivers through MilSpeak instructional on-site and online seminars and workshops, online publishing platforms, and resource advocacy for the purposes of documenting and preserving military history, increasing public awareness about the cross-generational impact of military experience, recognizing and promoting the wellness connection between arts-related activity and stress management, and fostering a warm community of artists.
But at the core of MilSpeak Foundation is the desire to help unleash YOUR inner artist.
The MilSpeak Story of Two (Marine Corps) Sisters
MilSpeak Foundation grew from MilSpeak Creative Writing Seminars (MCWS), the brainchild of retired and disabled Marine Corps veteran, Sally (Drumm) Parmer, who founded the creative writing workshops in August 2005 at Marine Corps Air Station, Beaufort, South Carolina, after recognizing the healing benefit of writing while pursuing her MFA from Queens University of Charlotte in North Carolina.
Four years later, Sally incorporated MCWS in South Carolina as MilSpeak Foundation,which was recognized as a 501c3 public charitable foundation in June 2010. Fueled by tireless passion, Sally continued to offer creative writing workshops and developed innovative publishing and performance pathways for the MilSpeak community and beyond.
But after a series of personal and family health challenges, Sally decided to pass the MilSpeak Foundation torch to a grad school friend—also a Marine veteran.
Today, MilSpeak Foundation is led by former Marine Corps officer, Tracy Crow, whose diverse background is rooted in the military, corporate, and academic worlds. Her professional experience includes thirty-eight years of executive leadership expertise, crisis management training and leadership, sales training and management, advertising and marketing, public and media relations, corporate and entrepreneurial business development, publication design and editing, and academic teaching.
Tracy is a former assistant professor of journalism and creative writing and the author of five military-themed books. After leaving academia in 2013, she founded On Point Seminars & Workshops, named after her breakthrough writing text, On Point: A Guide to Writing the Military Story, and leads writing workshops, mostly for veterans and their families, around the country and online. On Point Seminars & Workshops is now a division of MilSpeak Foundation, and replaces MCWS.
While MilSpeak Foundation, Inc., reorganizes under new leadership, what remains the same is its longstanding commitment toward building bridges between the creative arts and our military communities.
MilSpeak Foundation Board of Directors
Please check back soon for bios on MilSpeak's Board of Directors.
MilSpeak Foundation Advisory Council
Mary Doyle (Army/author)
Dr. Kevin Jones (Marine Corps/author/academic instructor)
Dr. Michael Lund (Army/author/academic instructor)
Anne Visser Ney (Coast Guard/author)
Libby Oberg (Navy/author/certified life coach)
Sally Parmer (Marine Corps/author/founder of MilSpeak Foundation)
Kathleen M. Rodgers (Air Force spouse/author)
CJ Scarlet (Marine Corps/author/certified life coach)
Dr. Kate Hendricks Thomas (Marine Corps/author/academic instructor)
Laura Westley (Army/author)
Andria Williams (Army spouse/author)